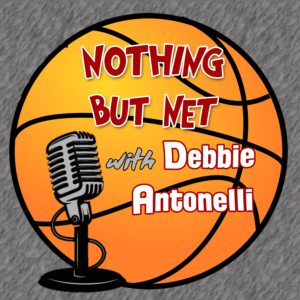 Dana Evans
LinkTree:  https://linktr.ee/NBNwithDA

Host: Debbie Antonelli

In this episode Debbie welcomes the Senior point guard for the #1 ranked Louisville Women's Basketball team. Dana talks about the young but talented group that has ascended to the top ranking. Dana also explains that as the lone senior of the group, she welcomes the responsibility to be the tone-setter and example-maker. She breaks down the the 3 W's of a point guard, WHO to get the ball to, WHEN and WHERE. She also gets talks about relishing those moments of the game on the line and having the ball in her hands, playing for Louisville head coach, Jeff Walz and she gives insight into what motivates her to continue improve and silence the naysayers. 

You will not want to miss this episode with another one of our great game of basketball's #TicketSellingPlayers that is Untrappable and Unflappable!
   
Be sure to listen and subscribe, to Nothing But Net with Debbie Antonelli, so you will never miss a future episode!
  
E-Mail your questions to Debbie at AskAntonelli@gmail.com for our weekly segment of #AskAntonelli.