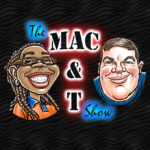 The Mac & T Show Podcast | 2016 NFL Playoffs, Super Bowl 50, NBA, 2016 WWE Royal Rumble, Lip Sync Battle
Original Air Date: January 25, 2016
Brian Mackay & T Davis are your co-hosts
This is our Season 2 Finale Episode!
Topics Discussed:
(02:48) NFL Playoffs
-AFC and NFC Championships Review
AFC: Denver Broncos vs New England Patriots
NFC: Carolina Panthers vs Arizona Cardinals
-Super Bowl 50 Preview
(11:50) NBA
-Eastern Conference-leading Cleveland Cavaliers fire Head Coach David Blatt and replace him with Assistant Coach Tyronn Lue
-Hack-a-Dwight Howard, Deandre Jordan, Andre Drummond, etc. Is it a problem that needs to be addressed?
(20:27) WWE Royal Rumble Review
-Kickoff Show Fatal 4-Way Tag Team Royal Rumble Qualifier
Dudley Boyz vs Mark Henry & Jack Swagger vs
The Ascension vs Darren Young & Damien Sandow
-Intercontinental Championship
Dean Ambrose(champion) vs Kevin Owens
-United States Championship
Alberto Del Rio (champion) vs Kalisto
-Tag Team Championship
The New Day(champion) vs The Usos
-Divas Championship
Charlotte(champion) vs Becky Lynch
-Royal Rumble Match
First Entrant: Roman Reigns
Surprise Entrants: #3 AJ Styles and #30 Triple H
(44:01) TV Shows
-#OscarsSoWhite Movement in full effect as Actress Jada Pinkett-Smith, Director Spike Lee and others plan to boycott the awards show in protest of lack of diversity in the nominations
-Lip Sync Battle Review
Anthony Anderson vs Tracee Ellis Ross
Special thanks to the following:
-Fiverr.com user: artist61 [Logo Caricatures]
-Fiverr.com user: mattmartillo [Ring Announcer Intro]
-Fiverr.com user: kendoepro [Official Theme Song]
Support "The Mac & T Show" by using our Amazon and/or Advocare links. There is no extra cost or hidden fees for you, the consumer. By using the links below when you shop at Amazon and/or Advocare, a portion of every order will be given to The Mac & T Show Podcast. Again, use the links below when shopping with Amazon and/or Advocare. Thank you for your support!
Amazon:
Advocare:
E-Mail the Show: TheMacnTShow@gmail.com
MORE LINKS
Check out more from the BMac Productions YouTube Page:
http://bit.ly/BMacYouTube
Check out the official website:
"Like" The Mac & T Show on Facebook:
http://bit.ly/MacTShowFB
"Follow" The Mac & T Show on Twitter:
https://twitter.com/TheMacTShow
"Check out" The Mac & T Show on Instagram:
http://bit.ly/MacTgram
The YouTube Channel:
http://bit.ly/SubMacTShow