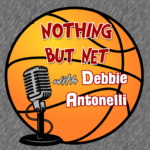 Alissa Pili, Utah WBB
LinkTree:  https://linktr.ee/NBNwithDA 

Host: Debbie Antonelli 
Producer: Brian "BMac" Mackay

Utah Women's Basketball forward, Alissa Pili, stop by the podcast to chat with Debbie Antonelli about her growth as a basketball player, her team's fast-paced offense, her coach, Lynne Roberts, growing up in a big family and how that helped with learning to play in a crowd and her teamwork skills, her plans after college and much more.

Be sure to listen and subscribe to Nothing But Net with Debbie Antonelli, so you will never miss a future episode! 

E-Mail your questions to Debbie at AskAntonelli@gmail.com for our weekly segment of #AskAntonelli.