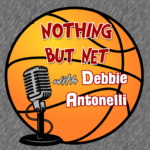 Allison Pohlman, Drake WBB
LinkTree:  https://linktr.ee/NBNwithDA

Host: Debbie Antonelli 

Drake Women's Basketball Head Coach, Allison Pohlman, joined Debbie to talk about her young and talented team, growing up in the state of Iowa, playing basketball against her older brothers, playing college basketball at Northern Iowa, moving over from the assistant coach's chair to the head spot, raising triplets, playing against Jackie Stiles in college, Susie Glazer Burt's impact on her program and much more!

Be sure to listen and subscribe to Nothing But Net with Debbie Antonelli, so you will never miss a future episode! 

E-Mail your questions to Debbie at AskAntonelli@gmail.com for our weekly segment of #AskAntonelli.