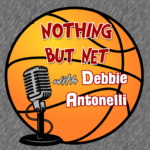 Amaka Agugua-Hamilton, Missouri St. WBB 
LinkTree:  https://linktr.ee/NBNwithDA 

Host: Debbie Antonelli 

You can see the video portion of this interview at https://mvc-sports.com/sports/wbball. 

Head Coach of Missouri State Women's Basketball Coach Mox joins Debbie to talk about her resilient squad, postseason prep, Family-Academics-Basketball, silver-linings, being both protector & informative for her players, her playing days at Hofstra, inspiration she continues to draw from her late mother & much much more! 

Be sure to listen and subscribe to Nothing But Net with Debbie Antonelli, so you will never miss a future episode! 

E-Mail your questions to Debbie at AskAntonelli@gmail.com for our weekly segment of #AskAntonelli.