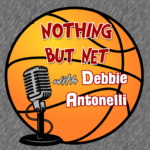 Ashleen Bracey, Illinois-Chicago WBB Head Coach
LinkTree:  https://linktr.ee/NBNwithDA 
Host: Debbie Antonelli 
You can see the video portion of this interview at https://mvc-sports.com/sports/wbball. 
Head Coach of the University of Illinois-Chicago Flames Women's Basketball team, Ashleen Bracey joins Debbie Antonelli to discuss what she is building at UIC, the defensive culture she is instilling, coaching and playing for and coaching under current Missouri WBB Head Coach, Robin Pingeton, and much more! 

Other ways to Listen:
Amazon: https://amzn.to/3pb7j8k
Apple: http://apple.co/3qI3Yy1
Google Play: http://bit.ly/3o4BTPS
iHeartRadio: http://ihr.fm/39Xe3jI
Spotify: http://spoti.fi/393JWbm
TuneIn: http://bit.ly/36270oN

Be sure to listen and subscribe to Nothing But Net with Debbie Antonelli, so you will never miss a future episode! 

E-Mail your questions to Debbie at AskAntonelli@gmail.com for our weekly segment of #AskAntonelli.