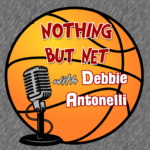 Ayoka Lee, Kansas State WBB
LinkTree:  https://linktr.ee/NBNwithDA 

Host: Debbie Antonelli 

Standing at 6'6" from Kansas State, the NCAA Women's Basketball single game scoring leader, Ayoka Lee joins Debbie to discuss her record-breaking 61 points she scored against Oklahoma. The reactions from her teammates, and women's basketball royalty like Sue Bird and Rachel Banham. Ayoka also dishes on the influence of Head Coach Jeff Mittie, on her game. She also talks expanding her game, her nickname, family, favorite class, Super Bowl pick, returning for her Senior year and what she wants to improve on, as well as what she wants to do when her playing days are over. All of that more!

Be sure to listen and subscribe to Nothing But Net with Debbie Antonelli, so you will never miss a future episode! 

E-Mail your questions to Debbie at AskAntonelli@gmail.com for our weekly segment of #AskAntonelli.