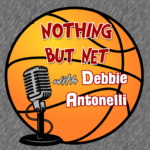 Bill Fennelly, Iowa State WBB
LinkTree:  https://linktr.ee/NBNwithDA

Host: Debbie Antonelli 

Iowa State Women's Basketball Head Coach, Bill Fennelly, joins Debbie to discuss his 'fun and talented' team, the importance of transparency in the women's game, gameplanning, bracketology, Ashley Joens, the transfer portal, Hilton Magic, The Iowa State Way, having his sons both being coaches and much more!

Be sure to listen and subscribe to Nothing But Net with Debbie Antonelli, so you will never miss a future episode! 

E-Mail your questions to Debbie at AskAntonelli@gmail.com for our weekly segment of #AskAntonelli.