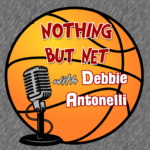 Candice Green, Fordham WBB
LinkTree:  https://linktr.ee/NBNwithDA 

Host: Debbie Antonelli 
Producer: Brian "BMac" Mackay

Our first installment of "One on One with Debbie Antonelli" for the Atlantic 10 brings us Fordham Women's Basketball Interim Head Coach, Candice Green. Coach Green talks to Debbie about her players, such as, Asiah Dingle and Anna DeWolfe. She also discusses how the A-10 is a strong offensive league, every one of the teams have multiple threats. Coach also goes into how her team is learning from wins and losses, her neuroscience degree studies at Colgate and the advice she would give to young girls. All of that and so much more in a great episode.

Be sure to listen and subscribe to Nothing But Net with Debbie Antonelli, so you will never miss a future episode! 

E-Mail your questions to Debbie at AskAntonelli@gmail.com for our weekly segment of #AskAntonelli.