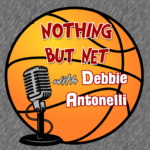 Cathy Engelbert
LinkTree:  https://linktr.ee/NBNwithDA

Host: Debbie Antonelli

WNBA Commissioner, Cathy Engelbert, is our next guest on the Nothing But Net with Debbie Antonelli Podcast. 
 
Cathy tells Debbie about when she first fell in love with the game of basketball. Growing up with five brothers and two sisters, there were many games played within the group. But she credits the stories of her dad playing basketball at St. Joe's for Hall of Fame Coach, Jack Ramsay, as he very first moment of 'loving' the game. 
 
Cathy also gets into her time playing collegiate at Lehigh for Hall of Fame Coach, Muffet McGraw. She shared a few stories during that experience that would help shape her into the leader she is today. 
 
She dives into her experience as commissioner, when her first year on the job she dealt with a global pandemic, coordinating the 'Wubble', helping out with the social justice activism of the players, as well as a collective bargaining agreement. The motto: 'turn challenges into opportunities' is a big part of helping her navigate through all of those things. 
 
Cathy and Debbie also talk about what is next for the WNBA. Building off of the momentum from last season, making players a household name, creating rivalries for fans to enjoy and pushing forward with added implementation sports gambling, digital marketing and continuing to make the league more marketable and continuing to grow the branding and corporate side of the business.
 
All of this leading to the 25th Anniversary of the league where Cathy and her team hope to honor and celebrate the history while continuing to look towards the future.
   
Be sure to listen and subscribe to Nothing But Net with Debbie Antonelli, so you will never miss a future episode!
  
E-Mail your questions to Debbie at AskAntonelli@gmail.com for our weekly segment of #AskAntonelli.