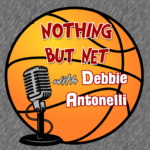 Cindy Stein, SIU WBB
LinkTree:  https://linktr.ee/NBNwithDA 

Host: Debbie Antonelli 

You can see the video portion of this interview at https://mvc-sports.com/sports/wbball. 

SIU Women's Basketball Head Coach, Cindy Stein, joined Debbie on this episode to discuss her final season, as she is retiring at the end of the 2021-22 season, Coach Stein also talked about her team, currently in first place in the Missouri Valley Conference, messages & stories from former players and teammates, what she believes are the values of being a good teammate, was Coach Stein the originator of the 'transfer portal' during her playing days and some of the best quips she has told referees and opposing coaches during her career. All of that and more on a truly legendary episode of Nothing But Net with Debbie Antonelli.

Be sure to listen and subscribe to Nothing But Net with Debbie Antonelli, so you will never miss a future episode! 

E-Mail your questions to Debbie at AskAntonelli@gmail.com for our weekly segment of #AskAntonelli.