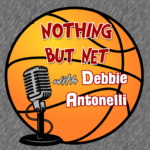 Colleen Mullen, Albany Women's Basketball
LinkTree:  https://linktr.ee/NBNwithDA 


Host: Debbie Antonelli 
Producer: Brian "BMac" Mackay

In our latest episode of Nothing But Net with Debbie Antonelli, Debbie chats with the Head Coach of Albany Women's Basketball, Colleen Mullen. Coach Mullen and Debbie discuss her coaching journey, which include stops at Army, Long Island and Lehigh. They also discuss Colleen's playing days, her family life and much more!

Be sure to listen and subscribe to Nothing But Net with Debbie Antonelli, so you will never miss a future episode! 

E-Mail your questions to Debbie at AskAntonelli@gmail.com for our weekly segment of #AskAntonelli.