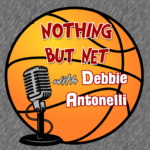 Diamond Miller, Maryland Women's Basketball
LinkTree:  https://linktr.ee/NBNwithDA 

Host: Debbie Antonelli 
Producer: Brian "BMac" Mackay

Lots of energy in this episode as Debbie welcomes Maryland guard, Diamond Miller. Diamond talks recovering from injury and embracing listening to her body, playing with her family in her driveway, continuing to grow with her team and continued success at Maryland and if she considers herself a 'big guard'. All of that and much more!

Be sure to listen and subscribe to Nothing But Net with Debbie Antonelli, so you will never miss a future episode! 

E-Mail your questions to Debbie at AskAntonelli@gmail.com for our weekly segment of #AskAntonelli.