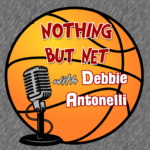 Dr. Belinda Kendall, CEO of Promise Media Group
LinkTree:  https://linktr.ee/NBNwithDA 

Host: Debbie Antonelli 
Producer: Brian "BMac" Mackay

This episode is one that will be remembered forever. The CEO and Founder of Promise Media Group, LLC, Dr. Belinda Kendall joined Debbie and shares stories of some, gives words of wisdom, teaches and uplifts with messages of service that we all can learn from. With Martin Luther King Jr Day upon us and Black History Month around the corner, take a listen as Dr. Kendall shares what she refers to "omitted Black History being restored!" 

Stories included: Andre "Rube" Foster, considered the 'father of black baseball' and the innovator of such things as the screwball pitch. Curt Flood, who could be considered the man who created free agency in Major League Baseball. These great stories and much more on an awesome episode on Nothing But Net with Debbie Antonelli.

Be sure to listen and subscribe to Nothing But Net with Debbie Antonelli, so you will never miss a future episode! 

E-Mail your questions to Debbie at AskAntonelli@gmail.com for our weekly segment of #AskAntonelli.