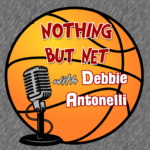 Gayle Fulks, Davidson Women's Basketball
LinkTree:  https://linktr.ee/NBNwithDA 

Host: Debbie Antonelli 
Producer: Brian "BMac" Mackay

In the latest "One on One with Coaches of the A-10 and Debbie Antonelli," Debbie talks with Gayle Fulks, Head Coach of Davidson Women's Basketball. Coach Fulks tells Debbie about her team learning to win in different ways due to injuries, learning from her dad's coaching style, influence of international play, Stephen Curry, team culture and much more!

Be sure to listen and subscribe to Nothing But Net with Debbie Antonelli, so you will never miss a future episode! 

E-Mail your questions to Debbie at AskAntonelli@gmail.com for our weekly segment of #AskAntonelli.