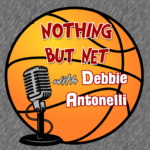 Ilene Hauser, Athletes Unlimited
LinkTree:  https://linktr.ee/NBNwithDA 

Host: Debbie Antonelli 

In this episode Debbie welcomes the Senior Advisor of Operations for Athletes Unlimited, Ilene Hauser. Ilene and Debbie discuss the new 'player-led' league. A league consisting of mostly non-WNBA players, but there is a small percentage of the "W" involved. This league has weekly drafts with captains picking teams. Captains are put in place by which player was on top of the league's leaderboard from the previous week. Points are accrued in many ways and no matter what the actual score of the game is, you can still gain points by your team winning each quarter, which makes this league's motto "Every Moment Counts" all the more true. Competitiveness, players having freedom and inspiring stories constantly being told make Athletes Unlimited a very intriguing product. Athletes Unlimited also has leagues in softball, volleyball and lacrosse. 

Be sure to listen and subscribe to Nothing But Net with Debbie Antonelli, so you will never miss a future episode! 

E-Mail your questions to Debbie at AskAntonelli@gmail.com for our weekly segment of #AskAntonelli.