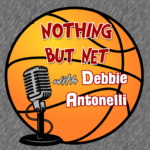 Kate Popovec-Goss, Bradley WBB
LinkTree:  https://linktr.ee/NBNwithDA 

Host: Debbie Antonelli 

MVC Video Version: https://bit.ly/MVCDA

Head Coach of Bradley Women's Basketball, Kate Popovec-Goss joined Debbie Antonelli to talk about growing her young team, making the joy of playing contagious, her mentors Agnus Berenato and Joe McKeown and much more. 

Be sure to listen and subscribe to Nothing But Net with Debbie Antonelli, so you will never miss a future episode! 

E-Mail your questions to Debbie at AskAntonelli@gmail.com for our weekly segment of #AskAntonelli.