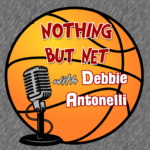 Kelly Bond-White, SIU Women's Basketball
LinkTree:  https://linktr.ee/NBNwithDA 

Host: Debbie Antonelli 
Producer: Brian "BMac" Mackay

Admittingly she's been on a sprint since she got the job, the Head Coach of Southern Illinois Women's Basketball, Kelly Bond-White, took a break from her schedule(basically in between games on the recruiting trail) to chat with Debbie in this episode. 

Coach talked to Debbie about the fact that since her playing days at Illinois, she's been a part of program-building. She delves into why now was the perfect time to come back to her home state. Find out what she learned and gained from being a National Championship-winning Assistant Coach for Gary Blair at Texas A&M, the importance of Community Support in building a program, where her love of the game began and much more!

Be sure to listen and subscribe to Nothing But Net with Debbie Antonelli, so you will never miss a future episode! 

E-Mail your questions to Debbie at AskAntonelli@gmail.com for our weekly segment of #AskAntonelli.