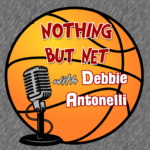 Kristen Gillespie, ISU WBB
LinkTree:  https://linktr.ee/NBNwithDA 

Host: Debbie Antonelli 

You can see the video portion of this interview at https://mvc-sports.com/sports/wbball. 

Coach Kristen Gillespie talks to Debbie about her Illinois State Women's Basketball and Ju Ju Redmond's growth as a player and leader. Gillespie also chats about her ascension to Division 1 Head Coach, being a coach's kid and having a lot her dad's tendencies in her own coaching style. Of course, since we have two former North Carolina State Wolfpack members, Debbie and Kristen talk about Coach Kay Yow's impact on their lives, honoring their late coach with the Play4Kay movement and they both share many stories about Coach Yow. All of that and more in another fun episode of Nothing But Net with Debbie Antonelli.

Be sure to listen and subscribe to Nothing But Net with Debbie Antonelli, so you will never miss a future episode! 

E-Mail your questions to Debbie at AskAntonelli@gmail.com for our weekly segment of #AskAntonelli.