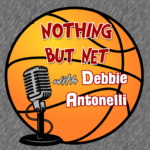 Maddy Siegrist, Villanova WBB
LinkTree:  https://linktr.ee/NBNwithDA 

Host: Debbie Antonelli 
Producer: Brian "BMac" Mackay

The leading scorer in the NCAA, Villanova Women's Basketball star, Maddy Siegrist joined Debbie to talk about her underdog mentality, does she feel snubbed when she's not mentioned in the Player of the Year talk? Maddy also talks about shooting and being around former VU Coach Harry Perretta and shares a great story involving him, as well as current Head Coach, Denise Dillon. She gives her thoughts on the legacy she has laid down at Villanova, Shelly Pennefather and much more.

Be sure to listen and subscribe to Nothing But Net with Debbie Antonelli, so you will never miss a future episode! 

E-Mail your questions to Debbie at AskAntonelli@gmail.com for our weekly segment of #AskAntonelli.