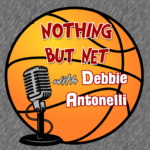 Mid-Major Talk
LinkTree:  https://linktr.ee/NBNwithDA 

Host: Debbie Antonelli 

Derryl Trujillo of WAC Digest joins Debbie to talk all about the teams that are often overlooked, the mid-majors. Debbie and Derryl dive into the Western Athletic Conference(WAC), the Colonial Athletic Association(CAA) and the Big West Conference. Who has the chance from those conference to make the NCAA Tournament or the WNIT? Could we see any of those teams make a run in the postseason? Derryl also gives his top 3 candidates for Her Hoop Stats "Becky Hammon Mid-Major Player of the Year" Award. All of this and more on Nothing But Net with Debbie Antonelli. 

Be sure to listen and subscribe to Nothing But Net with Debbie Antonelli, so you will never miss a future episode! 

E-Mail your questions to Debbie at AskAntonelli@gmail.com for our weekly segment of #AskAntonelli.