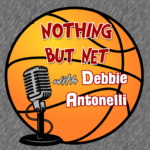 Pepper Persley
LinkTree:  https://linktr.ee/NBNwithDA

Host: Debbie Antonelli

In this episode Debbie chats with 9-year-old journalist, Pepper Persley. Pepper has been writing, blogging and podcasting about Women's Basketball since 2017, when she was 6!!! 
 
Pepper tells Debbie how important she feels it is to research the topics that she is covering to have the most knowledge possible before each interview. Covering the WNBA with joy, passion and knowledge has given Pepper the necessary respect to get the access that she has at this point in her blossoming career. 
 
Pepper's main goal is continuing to bring more viewers and fans to the game of women's basketball. She has interviewed some of the game's biggest names and has covered of some of the biggest moments from the past couple of WNBA seasons. 
 
Pepper and Debbie discuss WNBA Free Agency, Candace Parker going home to Chicago, Social Justice Activism and the impact the WNBA continues to have in that area and her dream of one day playing for the league that she covers.

Pepper also is the first guest to give us a demonstration, when she shows off her jump shot, and she breaks news with her upcoming work with the Women's Sports Foundation.
 
You will learn really quick how someone so young has been able to reach the levels of success that she has. 
   
 Be sure to listen and subscribe, to Nothing But Net with Debbie Antonelli, so you will never miss a future episode!
  
 

 E-Mail your questions to Debbie at AskAntonelli@gmail.com for our weekly segment of #AskAntonelli.