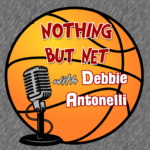 Rebecca Tillett, St  Louis Women's Basketball
LinkTree:  https://linktr.ee/NBNwithDA 

Host: Debbie Antonelli 
Producer: Brian "BMac" Mackay

Next up on "One on One with Debbie Antonelli" with have the Head Coach of St. Louis Women's Basketball, Rebecca Tillett.

Be sure to listen and subscribe to Nothing But Net with Debbie Antonelli, so you will never miss a future episode! 

E-Mail your questions to Debbie at AskAntonelli@gmail.com for our weekly segment of #AskAntonelli.