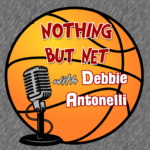 Robyn Scherr-Wells, Evansville Women's Basketball
LinkTree:  https://linktr.ee/NBNwithDA 

Host: Debbie Antonelli 
Producer: Brian "BMac" Mackay

You can see the video portion of this interview at https://mvc-sports.com/sports/wbball. 

Head Coach of Evansville Women's Basketball, Robyn Scherr-Wells, joined Debbie to chat about her evolving and striving team, the challenges of Missouri Valley Conference play, who she is picking in the College Football Playoffs National Championship game and more. 

Be sure to listen and subscribe to Nothing But Net with Debbie Antonelli, so you will never miss a future episode! 

E-Mail your questions to Debbie at AskAntonelli@gmail.com for our weekly segment of #AskAntonelli.