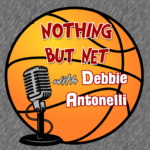 Rori Harmon, Texas WBB
LinkTree:  https://linktr.ee/NBNwithDA 

Host: Debbie Antonelli 
Producer: Brian "BMac" Mackay

The Point Guard of Vic Schaefer's Texas Women's Basketball Team, Rori Harmon, joins Debbie to talk about her love of the game, training with her Dad, the three W's of being a PG, her mom being her best friend off the court and Debbie grills her, in the classroom, with some questions about her teammates. All of that and more with the star guard.

Be sure to listen and subscribe to Nothing But Net with Debbie Antonelli, so you will never miss a future episode! 

E-Mail your questions to Debbie at AskAntonelli@gmail.com for our weekly segment of #AskAntonelli.