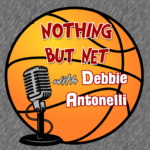 Tanya Warren, Northern Iowa WBB
LinkTree:  https://linktr.ee/NBNwithDA 

Host: Debbie Antonelli 

The Head Coach of Northern Iowa Women's Basketball, Tanya Warren, joins Debbie to talk about her 'hardworking and disciplined' team, being the longest-tenured coach in the Missouri Valley Conference, turning defense into offense, Karli Rucker being a household name, she reflects on her own playing days and Coach Warren shares the secret to getting ready for March. All of that and more on another great episode of Nothing But Net with Debbie Antonelli.

Be sure to listen and subscribe to Nothing But Net with Debbie Antonelli, so you will never miss a future episode! 

E-Mail your questions to Debbie at AskAntonelli@gmail.com for our weekly segment of #AskAntonelli.