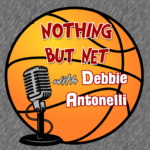 The Jekot Sisters
LinkTree:  https://linktr.ee/NBNwithDA 

Host: Debbie Antonelli 

Kelly Jekot-Penn State Women's Basketball
Katie Jekot-St. Joe's Women's Basketball
Julie Jekot-LaSalle Women's Basketball

Debbie welcomes a trio of fun to the podcast. The Jekot Sisters join us to talk about their competitive family, with their dad playing college basketball, their mother played field hockey at the D-2 level and they have a younger sister, Jill, who is a sophomore in High School. They also talk about their plans for when their playing days are done, which sister they would pick to be on their team, in ten years, where do they see sports playing a role in their daily choices? All of this and much more on another great episode of Nothing But Net with Debbie Antonelli.

Be sure to listen and subscribe to Nothing But Net with Debbie Antonelli, so you will never miss a future episode! 

E-Mail your questions to Debbie at AskAntonelli@gmail.com for our weekly segment of #AskAntonelli.