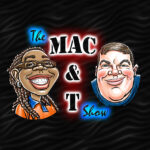 The Mac & T Show Podcast | 2015 NBA Finals Review
Website: BrianMackay.org/MacTShow

Original Recorded Date: June 20, 2015

Theme Music: "Early Riser" by Kevin MacLeod
Brian Mackay & T Davis are your co-hosts

Episode includes:
(00:22) Welcome
(00:43) Quick rundown of the Finals Facts
(4:23) Golden State Warriors offseason questions
(8:07) Cleveland Cavaliers offseason questions
(10:25) Brian's Soapbox rant on LeBron James
(15:41) T's Soapbox rant on the media de-valuing the Warriors win
(18:46) Kevin Love's future?
(22:01) Excitement over Season 2 of our podcast


Special thanks to the following:
-Fiverr.com user: artist61 [Logo Caricatures]
-Fiverr.com user: mattmartillo [Ring Announcer Intro]
-Fiverr.com user: kendoepro [Official Theme Song]
Support "The Mac & T Show" by using our Amazon and/or Advocare links. There is no extra cost or hidden fees for you, the consumer. By using the links below when you shop at Amazon and/or Advocare, a portion of every order will be given to The Mac & T Show Podcast. Again, use the links below when shopping with Amazon and/or Advocare. Thank you for your support!
Amazon:
Advocare:
E-Mail the Show: TheMacnTShow@gmail.com
MORE LINKS
Check out more from the BMac Productions YouTube Page:
http://bit.ly/BMacYouTube
Check out the official website:
"Like" The Mac & T Show on Facebook:
http://bit.ly/MacTShowFB
"Follow" The Mac & T Show on Twitter:
https://twitter.com/TheMacTShow
"Check out" The Mac & T Show on Instagram:
http://bit.ly/MacTgram
The YouTube Channel:
http://bit.ly/SubMacTShow