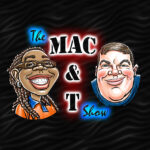 The Mac & T Show Podcast | 2016 NBA Finals, 2016 WWE Money in the Bank, OJ Simpson Made in America
Original Air Date: June 20, 2016
Brian Mackay & T Davis are your co-hosts
This is our Season 3 Finale episode!
Topics Discussed:
(00:53) NBA Finals
-Cleveland Cavaliers won their first NBA Championship in franchise history; defeating the Golden State Warriors 93-89 in Game 7
-Cleveland wins its first championship in franchise history winning 93-89 in Game 7 against the Golden State Warriors
-Giving Cleveland its first major sports league championship since 1964
-The Cavaliers are the first team to win an NBA Finals Game 7 on the road since 1978
-LeBron James becomes the 3rd player ever to have a triple double (27 points, 11 rebounds, 11 assists) in Game 7 of the Finals
-Does this degrade the 73-9, record-breaking season of the Warriors?
-Will LeBron stay in Cleveland now that he has fulfilled his promise and brought the city a championship or will he choose to leave for a bigger market in free agency?
(11:05) NBA Draft
-2016 NBA Draft Thursday Night, June 23rd
-Who will go where?
-What will T's Los Angeles Lakers (2nd pick) and Brian's Chicago Bulls (14th pick) do on draft night?
(20:47) "WWE Money in the Bank" Review
Tag Team Championship Fatal 4-Way:
The New Day(champion) vs Enzo & Big Cass, The Club and The Vaudevillians
Singles Match:
Andre the Giant Memorial Battle Royal Winner, The Lone Wolf Baron Corbin vs The Showoff Dolph Ziggler
Tag Team Match:
WWE Women's Champ, Charlotte & Dana Brooke vs Natalya & the Irish Lass-Kicker, Becky Lynch
Singles Match:
The Celtic Warrior, Sheamus vs Apollo Crews
Singles Match:
John Cena vs The Phenomenal One, AJ Styles
Money in the Bank Ladder Match:
Chris Jericho, Cesaro, Sami Zayn, Alberto Del Rio, Kevin Owens and Dean Ambrose
United States Championship:
Rusev(champion) vs Titus O'Neil
WWE World Heavyweight Championship:
Roman Reigns(champion) vs Seth Rollins
WWE World Heavyweight Championship:
Seth Rollins(champion) vs Dean Ambrose
(39:13) "OJ Simpson: Made in America 30 for 30 Documentary" Review
Special thanks to the following:
-Fiverr.com user: artist61 [Logo Caricatures]
-Fiverr.com user: mattmartillo [Ring Announcer Intro]
-Fiverr.com user: kendoepro [Official Theme Song]
Support "The Mac & T Show" by using our Amazon and/or Advocare links. There is no extra cost or hidden fees for you, the consumer. By using the links below when you shop at Amazon and/or Advocare, a portion of every order will be given to The Mac & T Show Podcast. Again, use the links below when shopping with Amazon and/or Advocare. Thank you for your support!
Amazon:
Advocare:
E-Mail the Show: TheMacnTShow@gmail.com
MORE LINKS
Check out more from the BMac Productions YouTube Page:
http://bit.ly/BMacYouTube
Check out the official website:
"Like" The Mac & T Show on Facebook:
http://bit.ly/MacTShowFB
"Follow" The Mac & T Show on Twitter:
https://twitter.com/TheMacTShow
"Check out" The Mac & T Show on Instagram:
http://bit.ly/MacTgram
The YouTube Channel:
http://bit.ly/SubMacTShow