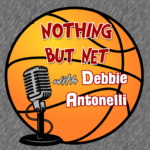 The Yow Sisters (Play4Kay Week)
LinkTree:  https://linktr.ee/NBNwithDA 

Host: Debbie Antonelli 
Producer: Brian "BMac" Mackay

In honor of the late, great Kay Yow, we wanted to do our part to celebrate Play4Kay week with a special episode where Debbie chats with Coach Yow's sisters Deborah and Susan Yow. Deborah and Susan tell stories from their time as young kids, their connections to North Carolina State University, coaching Debbie at basketball camps and later as a Wolfpack, and much more in a perfect way to honor their sister's legacy.

Support the Kay Yow Cancer Fund: https://bit.ly/KayYowFund

Be sure to listen and subscribe to Nothing But Net with Debbie Antonelli, so you will never miss a future episode! 

E-Mail your questions to Debbie at AskAntonelli@gmail.com for our weekly segment of #AskAntonelli.