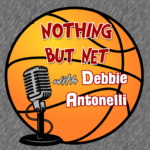 Tory Verdi, UMass Women's Basketball
LinkTree:  https://linktr.ee/NBNwithDA 

Host: Debbie Antonelli 
Producer: Brian "BMac" Mackay

In the latest episode of 'One on One with Debbie Antonelli,' we welcome University of Massachusetts Head Coach, Tory Verdi. Coach Verdi talked to Debbie about his WBB coaching journey, from working with Mike Thibault and the WNBA's Connecticut Sun, to assisting Connie Yori at Nebraska, Bonnie Hendrickson at Kansas all of the way to his current position at UMass. Coach also talks about the importance of culture, relationship with players, having a family, all-inclusive atmosphere. He also talks about coaching reigning A-10 Player of the Year, Sam Breen and his veteran group of players, getting them to buy-in to being the hunter as opposed to the hunted, embracing adversity, the importance of having a great staff and much more!

Be sure to listen and subscribe to Nothing But Net with Debbie Antonelli, so you will never miss a future episode! 

E-Mail your questions to Debbie at AskAntonelli@gmail.com for our weekly segment of #AskAntonelli.