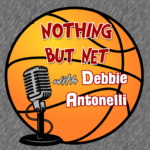 Yolett McPhee-McCuin
LinkTree:  https://linktr.ee/NBNwithDA

Host: Debbie Antonelli

In this episode, of Nothing But Net with Debbie Antonelli, we are joined by Ole Miss Women's Basketball head coach, Yolett McPhee-McCuin, or as she is more affectionately known: Coach Yo. 
 
Coach Yo talks to Debbie about building her program in Oxford. Taking a team that had zero SEC wins last season, to a team that is the talk of women's basketball coming off a late-season surge. She called last season a humbling experience, that caused her to cling even stronger to her faith and stick to her values, which in turn, she admits, made her a better coach. Her belief is in building something the right way, you can't skip steps. In recruiting, she looks for players that believe in her, believe in themselves and believe in the vision of the program. 
 
Coach Yo also talks about the importance of networking. She talks about the impact that Agnus Berenato and Dawn Staley has had on her career, with many other mentors along the way. She even shares a story about Debbie dragging her to a speaking engagement at a Final Four, when Coach Yo was just a young assistant coach. Coach Yo stresses the importance of her to leave a legacy and she hopes to elevate assistants on her staff in the way that her mentors have for her. 
 
Coach Yo also talks about being a dreamer and a believer. Betting on herself, being passionate, giving her all in everything that she does and having a "No Ceilings" attitude that all has been ingrained in her by looking up to her parents. Her mother, who was a principal and her father who is a retired basketball coach, that still to this day is teaching young kids the game at the local park, named in his honor. 
 
Lastly and most important, at the given moment, Coach Yo makes the case for why her team deserves to be in the 2021 NCAA Tournament:
 1. Eye test-they defend, they play a style of basketball that is fun to watch that fans will and have gravitated to.
 2. Trending up-They had a strong finish to the season, a season that included 4 top 15 wins.
 3. They have #TicketSellingPlayers like First Team All-SEC, Shakira Austin, SEC Freshman of the Year, Madison Scott with Freshmen Jacorriah Bracey and Snudda Collins, just to name a few.  
  
Do yourself a favor and listen to this episode of Nothing But Net with Debbie Antonelli.
 
Be sure to listen and subscribe to Nothing But Net with Debbie Antonelli, so you will never miss a future episode!
  
 E-Mail your questions to Debbie at AskAntonelli@gmail.com for our weekly segment of #AskAntonelli.